Car, SUV & 4x4 Servicing
More than just tyres
Whatever your make or model, book your next auto service
or repair with one of our qualified mechanics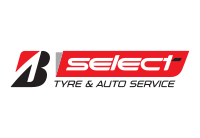 At your local Bridgestone Select Tyre & Auto Service store, we'll go out of our way to make sure your car performs at its best and ensure that you leave completely satisfied.

We'll talk you through all of the service work and car repairs that need to be done to your vehicle, without confusing jargon. If we find a problem, we'll let you know what it is and how much it will cost before we begin working on your vehicle.

All Bridgestone Select stores are MTA-assured and only use the highest quality filters, parts and oil that meet vehicle manufacturer's specifications. In the course of repairing or servicing your vehicle we utilise advanced automotive equipment and diagnostic technology, with experienced and fully qualified mechanics.
Auto Servicing Menu


Bridgestone Select is the cost effective way to maintain your vehicle with our packaged price servicing.
Regardless of the age of your vehicle, our fully qualified mechanics will prioritise your safety and peace of mind with our detailed servicing and car repairs.




Warrant of Fitness


At Bridgestone Select our fully qualified, experienced and NZTA-certified mechanics offer thorough, professional and detailed Warrant of Fitness inspections.
If your Warrant of Fitness is soon to expire, let our professional team check it and guide you to attain a renewed Warrant of Fitness as quickly and efficiently as possible.


Mechanical Repairs


Your local Bridgestone Select store can take care of your service and maintenance requirements so that your vehicle runs smoothly.
If something goes wrong that can't be fixed with a routine service or maintenance, then you're in safe hands with our qualified mechanics.



Safety Checks


Safety is paramount to everything we do, whether it's tyres, wheel alignments, brakes, steering, suspension, extensive car repairs or one of our servicing options.
Bridgestone Select take exceptional care to ensure your vehicle is as safe as possible for both you and your passengers with our comprehensive safety checks.



Brakes


Is your car failing to stop as well as it used to? Is it making strange sounds? Or is the steering wheel shaking when you brake?
Book your car into your local Bridgestone Select store now for a brake inspection and service. We won't stop until we're sure your brakes will!



Transmission flush


A regular transmission flush and fluid change helps prolong the life of your vehicle's transmission.
At Bridgestone Select, we offer a comprehensive transmission maintenance service, to keep your car performing at its optimum level.



Power steering flush


Old and neglected power steering fluid affects the vehicle's power steering system.
At Bridgestone Select, we offer power steering maintenance and repair services to remove any harmful deposits and impurities that could be causing damage to your vehicle.

Suspension


Your vehicle's suspension system is one of the main systems affecting its safety, so it's important to maintain it. It also has a huge impact on your braking, steering and tyres.
At Bridgestone Select, our emphasis is on the safety of your vehicle ensuring you and your passengers are safe.

CV Boots


A CV boot is a rubber cover that provides protection for the CV joint which is responsible for transmitting power to the engine and transmission. If your CV boot splits, it can result in expensive damage.
If you are concerned about the condition of your CV joints and boots, see our team at Bridgestone Select and one of our qualified mechanics can help.