More than just tyres
Your local Bridgestone Select Tyre & Auto Service store can take care of all your service and maintenance requirements
so that your vehicle runs smoothly.

But what if something goes wrong that can't be fixed with a routine service or maintenance? What if your vehicle
requires more substantial mechanical work?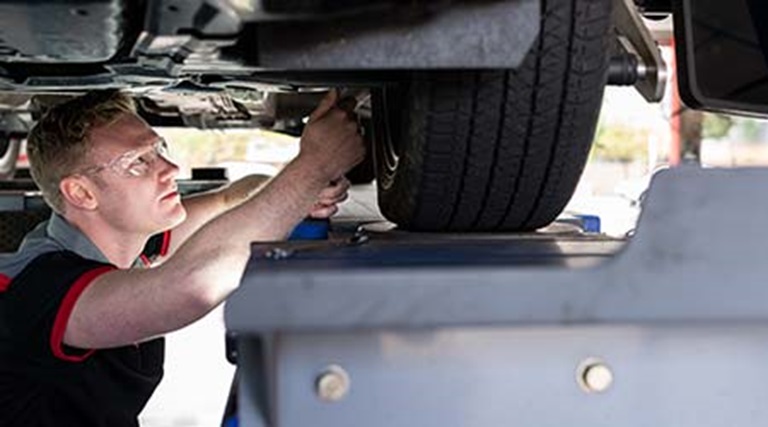 You're in safe hands with our qualified mechanics
You can relax knowing your Bridgestone mechanic is qualified and has the experience to assess your vehicle and provide you with exactly what you need.

Our mechanics will explain the problem in easy-to-understand terms and will be up front on the time required to fix the problem and how much the repair will cost. And they won't take any action unless you approve it beforehand.

They will nevertheless, thoroughly inspect your vehicle and advise you on the health and safety of your vehicle, so that you can then make the most informed decisions when it comes to service, maintenance and repair options.
If something doesn't seem right, get onto it early
It's important to get on top of any little problems early — before they turn into much more expensive problems!
It pays to be on the lookout for the following:
Engine running rough, misfiring or hard to start

Fluid is leaking under your vehicle

Strange noises – engine, brakes, steering, suspension

Smoky exhaust emissions

Spongy brakes

High engine temperature

Steering shuddering or pulling to one side

Warning lights on your dashboard
If you experience any of the above, drop into your local Bridgestone Select Tyre
& Auto Service store and let one of our qualified mechanics take a look.
You may need more than just a service
No one knows your vehicle better than you. So if you start to sense changes in your vehicle's performance or operation, hear some concerning sounds, or anything else that seems 'off', it may be time to contact your local Bridgestone Select Tyre & Auto Service store to arrange an inspection or service.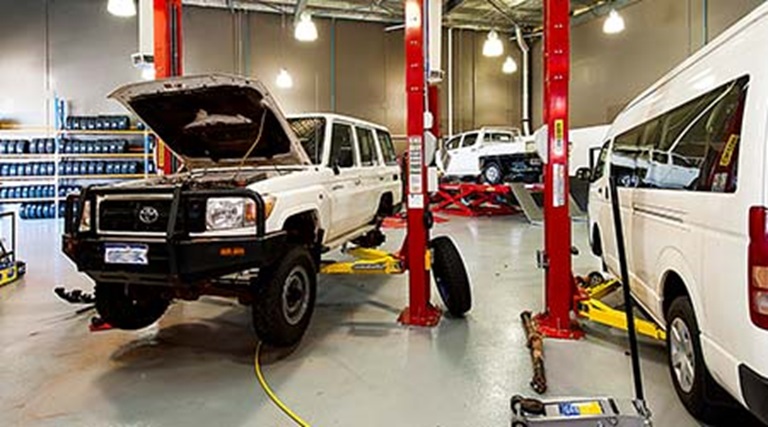 We do more than just servicing
At your local Bridgestone Select Tyre & Auto Service store, we offer a wide range of services and mechanical repairs for
your vehicle, all performed by qualified mechanics using the latest equipment and to the highest quality standards.
Whether it's just a routine service or mechanical repairs, your local Bridgestone Select store has the expertise and technology
to keep your vehicle on the road and running at its best.
Specialist maintenance and repairs
At Bridgestone Select we provide a wide range of specialist maintenance and repairs for all vehicles, regardless if the fault is large or small. If your vehicle needs repairs, it is generally wiser to take care of the issue immediately, rather than waiting until the issue becomes critical, as it could cause additional damage and affect the vehicle's roadworthiness.
Qualified, experienced mechanics, backed by MTA-assurance
With fully qualified, experienced mechanics; MTA assurance; industry-leading equipment; and the use of only quality brands and vehicle components, Bridgestone Select is New Zealand's number one choice for automotive care.

Common repairs may include:
Cam-belt replacement

Clutch replacement

Engine-mount replacement

Seatbelt replacement

Headlight and brake light replacement

Hose replacement
If your vehicle needs any general repair, see your local Bridgestone Select store for experienced advice and expert solutions.
Available at Bridgestone Select only
Automotive Servicing, Warrant of Fitness Inspections and Mechanical
Repairs are available at Bridgestone Select stores only.